Two more busy days have passed since my last update! Our vacation is whizzing by, just like our vacation countdown did!
Thursday morning we did, in fact, go back to Blizzard Beach! The weather was fantastic and we really enjoyed the day! Megan and Shayna both did the
Summit Plummet
- a free fall slide where speeds average 50-60 MPH! Their faces- as they climbed off the slide- were priceless! I am eager to see the Photopass pictures so we can see the look of terror mid-way during the drop!
We stayed at Blizzard Beach until about 2pm, then came back to the hotel to change and move to Hollywood Studios! We took the bus over and just as we climbed off the bus, it began to rain. Hard. Very hard. It lasted for about 5 hours and really put a damper on the night. :(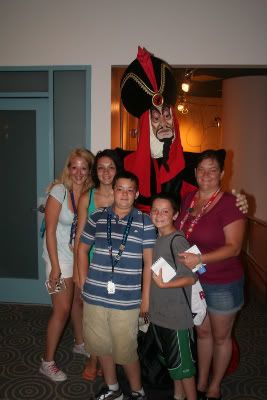 One of the bright spots was a great character spot where we were able to meet Jafar, Mr & Mrs Incredible and Frozone!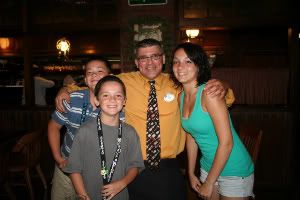 We had dinner at Mama Melrose's... the food was great and the service was even better! The kids even asked our waiter, Ken, to sign their autograph books!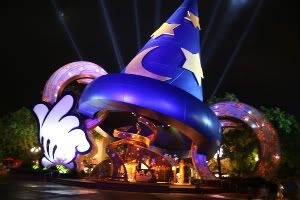 It finally stopped raining after dinner so we were able to get a few rides in and see the Fantasmic show. I was able to capture this photograph after dark! Dane is enamored with the Sorcerer's hat!
The weather forecast this morning predicted more rain for tonight, so we changed up our water park plans and decided to go to Epcot this morning. This allowed us to get in some rides we missed the other day as well as gather the remaining 6 countries in our passport without being drowned in monsoon-like rains.
Scott took the kids over to Disney Quest tonight for some gaming fun! I stayed behind at the hotel and did some laundry (and iced my ankles)- lucky me! LOL
Since the rain has effected 3 nights so far, we decided to add an extra day to our park passes for the whopping price of $3 per person! Can you imagine? After 4 day passes, the prices really drop!
Tomorrow we plan to visit Hollywood Studios again. If we are able to wrap up our list of "must do's", we may go to Typhoon Lagoon and/or Magic Kingdom! TTFN!