I had hoped to blog each night about our adventures, but unfortunately I have learned the hard way that a vacation at Disney leaves very little time for anything but fun.... that includes blogging and sleeping!
We kicked off our trip on Sunday morning with a limo ride into Boston! I had researched and found a fairly good deal. I cracked and told the girls, but we were planning to surprise the boys. Everyone did a great job keeping the secret until just before the limo was to arrive... Shayna stated "
I hope the limo has AC
"! ROTFL The boys eyes lit up as they question us about what she said. Within just a few minutes, the limo arrived and we scurried to finalize gathering everything we needed for the trip! I think we look pretty darned good considering these pics were taken at 415am!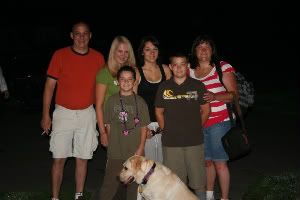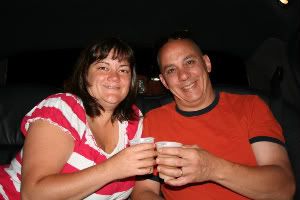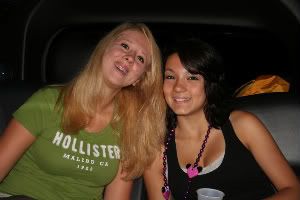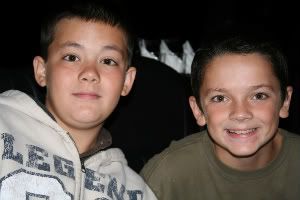 The train was long and uneventful. Everyone survived despite their grumblings, LOL We arrived in Orlando around 10:15am on Monday. We were met by a van and driven to the All Star Music Resort where we were pleasantly surprised to find that our room was ready! We checked in, got settled and headed out to Downtown Disney! Our first stop was to get Mickey ear hats! :) We each got a different style, which I think lends itself well to the fact that we all have such different personalities yet we all still coordinate!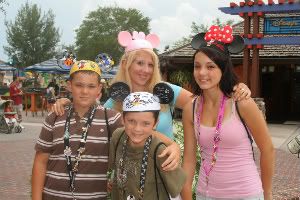 Once we had accomplished that, we hit the pin stores where Dane announced "Pin trading is my favorite thing about Disney"! This was before he even stepped foot in an official park, LOL We shopped around and took in all the sights and sounds and then headed to Cap N Jacks for lunch! We ended a delicious meal and were treated to blinking pins and a card from the staff to celebrate the first trip for the boys to Walt Disney World! It was definitely a fun surprise!
Next we were off to Magic Kingdom for our first look at Cinderella Castle! Just as we walked in, we happened to catch a parade right down Main Street USA! It was a great way to start our evening!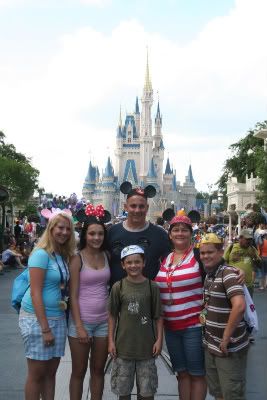 The Story Time with Snow White was fabulous! There were only 4 families in attendance so this allowed Snow White a lot of time to interact with each of the kids!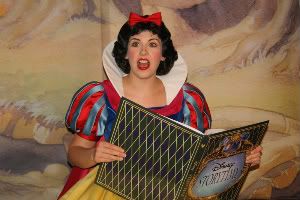 We finished the night with a little swimming in the pool (it doesn't close till midnight!)!
Tuesday we were up by 6am to get prepared for our first full day. We chose to spend the day at Magic Kingdom! I had read online that the first child to run into Tinkerbell's shop in the morning got to "wake her up", so we planned to arrive early and RUN to find that location! If you can imagine, despite hearing other families talk about the same thing while waiting in line, Dane managed to find the store and received the wonderful honor of ringing the bell to wake Tink! He and Dylan both received a special certificate to commemorate the occasion!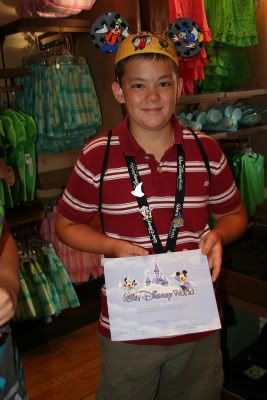 Thanks to the Extra Magic Hours for guests who stay on WDW property, we were able to enjoy 5 rides and meet 2 characters
before the park even opened to the public
! This was a
HUGE
benefit! Our day at Magic Kingdom was, of course,
magical
. We went back to the hotel in the afternoon for a quick swim and then went back to MK for the Wishes Dessert Party and fireworks.
This morning we slept in (all the way to 730am, LOL) and then spent most of the day at Epcot! I think our favorite ride of the day was probably Test Track! We also got our "Passport" signed by 5 of the 11 countries in the World Showcase.
We decided to change things up and put off Disney Quest and go to Blizzard Beach instead tonight. One can only endure the Orlando heat for so long & still stay sane! As we boarded the bus, the sky darkened. I was convinced it would be the usual Orlando rain and pass just as quickly as it came. We arrived at Blizzard Beach and the rain began. Then the thunder. And the lightening. One strike was within
3o feet
from where we stood sheltered. That one scared us, but otherwise it was just another part of the adventure! LOL (BTW, the rain never did stop and the park never did reopen, so we didn't get to do anything at Blizzard Beach other than watch the rain! LOL)
Tomorrow's plans include a trip back to Blizzard Beach and then our first visit to Hollywood Studios! I will post again when I can!
Please forgive any typos! It's late and I am going to bed! I will correct them at a later date, as well as add more photos and details! :)