We have been dreaming of
Disney
for as long as I can remember. The infamous "Florida Jar" filled with coins sits in our living room as a constant reminder of our dream, which always seemed just out of reach. Until now.
Now that we have the trip booked, I am enjoying every single minute of the planning! I have fully immersed myself in every aspect of research- from research to scheduling, advanced reservations for table service and itineraries! Dane joked today that I have planned exactly the number of people that will be in line in front of us at each ride, LOL
I purchased 4 books from Barnes and Noble to give us the inside scoop and help us best plan our trip:
Passporter's Walt Disney World 2009
: This book has been an enormous help in planning our trip! I love the concept of the pocket pages in the back of the book for planning and storing things, though I think I may need something a little larger to accommodate our needs.
The Hidden Magic of Walt Disney World
: This hasn't been my favorite book so far! Many of the "secrets" are quite boring and will be hard to remember once we get to Disney.
Walt Disney World with Kids
Another must-have for all Disney trip planners! This book is an easy read with lots of great tips, hints, secrets and info about Hidden Mickey's!
Sea World, Discovery Cove and Aquatica
: Since ruled out Discovery Cove due to cost ($1600 for our family for
ONE
day!), we haven't spent a lot of time looking through this book. It could be because the 2 remaining parks covered by this book need less planning than Disney requires.
Friday night, Megan, Shayna and I went for Disney pedicures at Happy Nails in Derry. We were warned that it may be too soon for a pedicure but mine usually last over a month so I figured we were safe. Besides, we needed a little magic
NOW
! Mine are the Minnie Mouse style red with white polka dots. Megan is to my left and Shayna is to my right! Aren't they cute?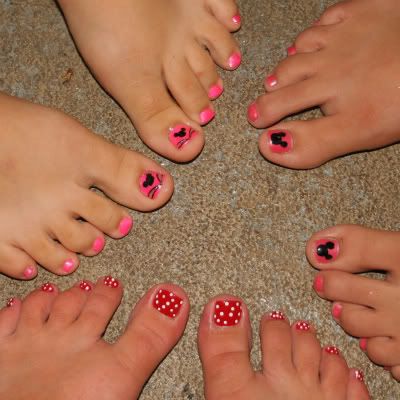 After we finished with pedicures, we hit the mall for some quick shopping... clothes for the trip and beach towels from
Disney Store
(on sale!)